March 2nd, 2019
Spend: £98.33
If you need to vent frustration, I can recommend replacing wheel studs...  hammering those in allows a lot of venting

But in they went, and so did the half shafts.  Had also ordered new Pagid brake drums from Euro Car Parts (9" drums for a 1978 RS2000) and they fitted nicely.And finally the new wheels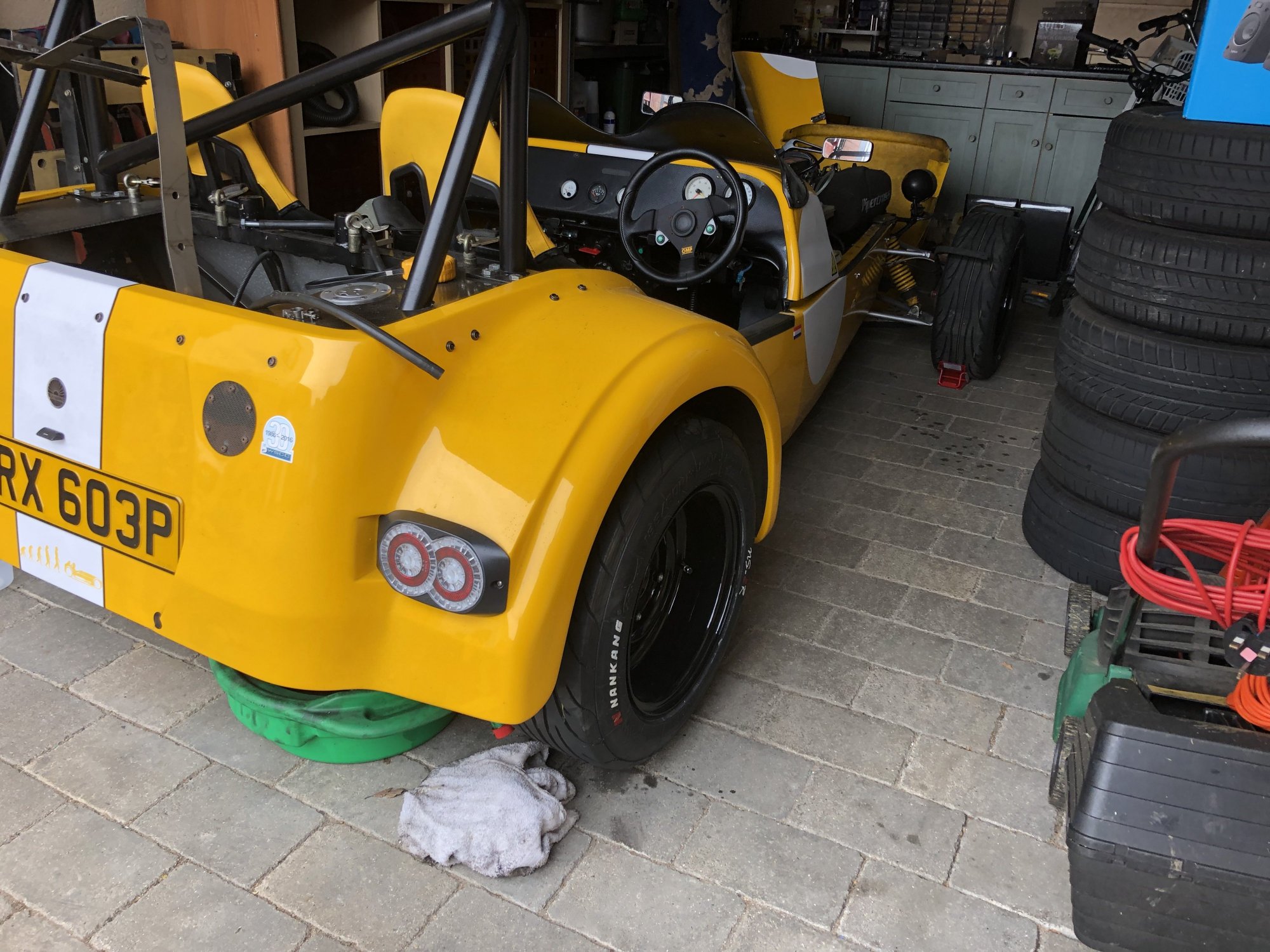 They still stick out a little beyond the arch, but I will decide on any action after I've driven it like this first.
Have changed the brake fluid as well for some new Pagid DOT4.
March 3rd, 2019
Spend: £0.00
Not much to show for it, but I disassembled the top mounted pedal box so I could bend the clutch pedal a little to the left so it clears the steering column mount.  Gained about 1cm in pedal travel.  Can't wait to see if this finally gets rid of the crunch in 1st/2nd gear.
March 9th, 2019
Spend: £65.31
Finally took delivery of a new fuel sender and fitted it.  Range on the sender is 0 (empty)-190ohm (full), whereas the VDO gauge I have uses a range of 10 (empty)-180ohm (full).  Going to add a 10ohm resistor so that it doesn't report the tank empty, until it is near empty.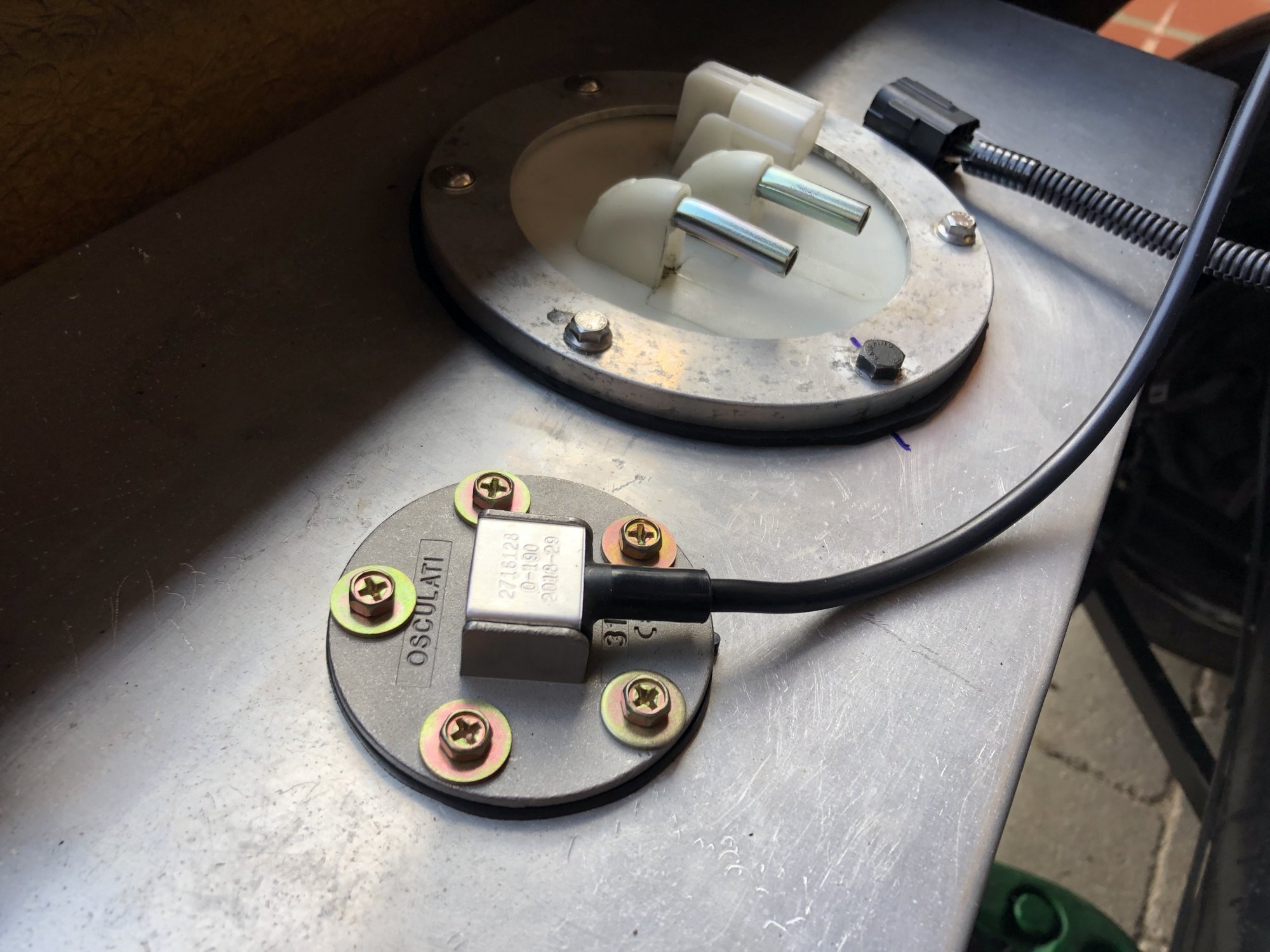 Another upgrade this year is the weedy horn I installed last year.  Barely audible over the engine noise, so this time around I went for a compressor horn...  the MOT man is going to **** himself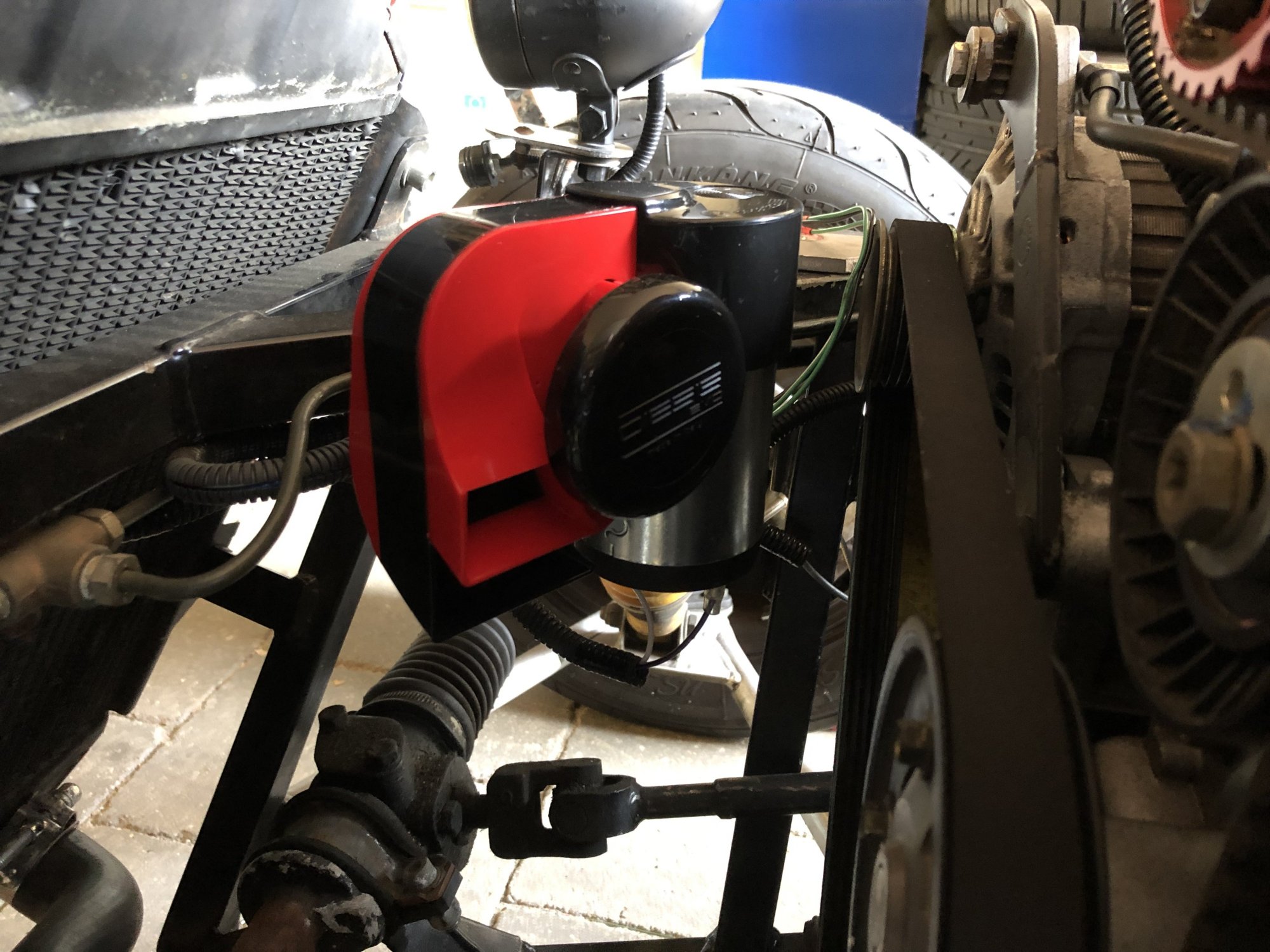 March 10th, 2019
Spend: £0.00
Couldn't do much today as my new daylight running lights haven't been delivered yet.  Just relocated the electronic fan switch to a better location and started to fit the new indicators to my cycle wings.
March 14th, 2019
Spend: £34.69
DRLs have finally arrived, so when I had some time at lunch today I started to fit them.
The Sikaflex needs to cure so I won't touch them now until Saturday when I can complete the electrics and re-fit them on the cycle wing stays. 
March 16th, 2019
Spend: £0.00
Finished off the cycle wings.  Took a little longer than I expected but the result is nice

March 17th, 2019
Spend: £7.10
Added the 10ohm resistor to the fuel sender and it now reports empty and full exactly synced with the VDO gauge.  Replaced the manky foam that sits underneath the bonnet with a new strip of much better quality.  The weather was rather unpredictable today, with one minute blazing sun, and the next a hail shower, but I had my mind set on starting the car...  and it did, on the button!  Left it running till the fan kicked in and then put the car back in the garage.  Bring on April 1st!
March 23rd, 2019
Spend: £0.00
Have decided that I am not happy with the way the headlight/indicator/cycle wing wiring has ended up like, so ordered new connectors and more thin wall wire.  And then as I was cleaning the car the Pipercross filter disintegrated in my hands.  New one on order as well.
March 28th, 2019
Spend: £30.45
After I posted my 1st/2nd gear selection woes on the forums, @Dave Eastwood (Gadgetman) - Club Secretary may have well discovered the root cause.  Fuchs Titan Race Syn 5 is what I was recommended by @windy, but that is a GL5 oil.  Fuchs Titan Race Synchro however is a GL4 oil.  Changing the oil with the gearbox in is not a great job, but fortunately the Pela 6000 got most of it out.  Proof will be in the pudding next week.
March 30th, 2019
Spend: £62.34
Can't believe I just spend 3 hours to crimp 8 connectors...
March 31st, 2019
Spend: £0.00
Can't believe I spend another 2 hours on some connectors and am still not finished.  Day cut short due to F1 and mothering Sunday.  More fun tomorrow!
Last month: £  8749.45
This month: £   298.22
            ----------+
Total:      £  9047.67