2013 Speed Series Reports - Part 1

Entry posted by Terry Everall - WSCC Competition Secretary ·
728 views
Tel's Tales – Speed Series 2013 - Part 1
by Terry Everall - Speed Series Correspondent
Introduction
Well, in a rash possibly inebriated moment I agreed to appoint myself as official Speed Series Correspondent for 2013. So unless someone else volunteers you are stuck with me but I hope to publish both factual reports as well as coordinate articles , views and questions from all members so that we communicate the interest in our Speed Series, which many other clubs envy and congratulate us on at events. Please note that my views are not necessarily those of the speed series committee but I hope this will enable competitors to air their views and suggest future improvements or see what other people think. I have enlisted the help of Bob Green for photos and hope to ask others for class reports and commentary on events I dont attend due to being a tight Yorkshireman who grumbles at the cost of fuel to get to events as I need all the money for upgrades and more power. If I dont get the facts from drivers I will just have to make it up. Future possibilities include driver and car profiles, interviews, a range of excuses to be used when things go wrong and technical discussions regarding engines, suspension, scrutineering etc.
What's it all about ?
The speed series committee have done some great work behind the scenes arranging the programme and issuing this years regulations which have produced a few changes to classes and target times which will be debated in the paddock or bar at great length and depending on your view, you will agree with some points and disagree with others. What is a fact is that whilst you cant please all the people all of the time they are trying to achieve several things such as:- provide a full programme of events, encourage new competitors with minimal experience, accommodate road going unmodified cars, follow MSA classes, provide a reasonably level playing field in terms of tyres, gearboxes and power etc. What is a fact is that those of us who are afflicted by this incurable pastime will compete no matter how much we express concern about the regs or Target Times. We, as competitors, cant get enough of it and the leg pulling and wind ups that are all part of the scene. However, when someone has a problem with their car everyone gets stuck in to help and its rare that we cant sort out most issues which would normally take too long to fit or outface a single person attempting a repair on their own. Spares are readily available as is technical expertise. A classic example of the camaraderie was at Ty Croes last year when Tim Nunn's clutch failed so his drinking partner Richard James offered to give him his own clutch. So in about 45 mins we took clutch from one fireblade car and swapped it into the other. How about that for sportsmanship – you don't see it elsewhere as far as I know.
So, what can I say about Target Times? For those of you who know sweet nothing about sprints and hillclimbs its really like an F1 qualifying lap but we do it from a standing start. In Westfields we have classes A through to H and J1,J2 and J3 for other makes. In my opinion most of the speed series drivers are seriously quick and our results against other supposedly faster cars speak for themselves with car often taking Fastest Time of the Day (FTD). We have moved into target times over the last 3 years and despite teething problems it seems like this is the future and should provide everyone with the same chance of winning the overall championship. Except for a few classes at a few venues we now have target times which are our class records so are difficult to achieve even when we have perfect track conditions. An adjusted formula is used if we have wet conditions or visit a new venue for the first time and where no sensible record existed this has been calculated. Each class is hotly contested and often competitors are divided by tenths of a second or less so each run has to be perfect to get close to or better the target time and requires total concentration and often a lot of bravery to carry maximum speed through tricky corners or brake much later than seems possible. The cars are on the very limit of traction and adhesion for much of the time pulling big lateral g forces. The lightweight slick shod cars often achieve 64 feet times of 2.0secs from a standing start! That is some serious acceleration and would win a traffic light grand prix easily. Most events provide 2 practice runs (timed) and 2 or more official timed runs with normally 3 or 4 possible unless there are too many offs or crashes or it starts raining.
Clearly ,in general, the more powerful and light slick shod cars are quickest but not always and on some circuits bike engined cars (BEC) are just as quick as the car engined cars (CEC). Cars typically have full screen or aeroscreens with roll over bar or full cages. Power units in CECs are normally Zetec, Vauxhall XE red top, Duratec, Puma, Toyota and the odd V8 producing power between 150bhp and approx 305bhp using H pattern or sequential gearboxes. Most CECs weigh between approx 485kgs and 600kgs and many have dry sump systems. BECs currently run YamahaR1, Suzuki Hayabusa or Honda Fireblade producing between 150bhp and 190 bhp. All these figure scan be increased by running superchargers or turbos as long as you can deal with the extra weight and heat produced. There are 2 types of venue, which are sprints or hillclimbs with some drivers doing both and others preferring one or the other. Some circuits are tight and narrow whilst others are wide but big speeds are possible on all tracks so long as you stay on the black stuff and dont visit the scenery too often. If you do get on the green stuff then the car acts like a bar of soap skidding across the bathroom floor and damage to both ones pride and car is likely.
Preparations
As I write this its winter and as well as the stomach bug Norovirus causing problems, severe cases of upgraditis have been witnessed. The first snow has fallen but things are stirring behind closed garage doors and more preparation was in evidence at the Autosports Show at the NEC. Speed series records and times have improved every year and therefore drivers all want the lightest and best car available so the basic recipe involves some of the following:- weight loss, brakes, rolling roads, engine transplants, better cams and throttle bodies, lighter seats, smaller fuel tanks, geometry set ups and last but not least a new set of tyres. Budgets are blown and bank balances suffer but its all for a good cause............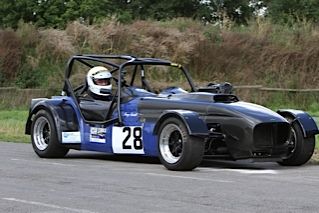 Terry Everall, Curborough 2012. in the Fireblade car
Rumours
So rumours have it that Adrian Clinton Watkins is preparing to prepare the twin engined busa monster to attack class H and I wonder if Mick Allard aka the duck will also be in the seat or in the 2litre Duratec. Class D will see more drivers like my brother Steve Everall with lighter cars and aeroscreens rather than full screens with John Hoyle also refreshing his powerful XE . John Loudon in class C will be on the pace again with Puma power and Stephen Herbert has had his aeroscreen / windscreen on and off more times than a bride's nightie and will be battling away in class D this year. In class G, I will be running my lightweight car with the Andy Bates 2008 Fireblade engine (with slipper clutch) which will hopefully have more power than last year. Although Tim Nunn and Mark Anson are holding their cards close to their chests I hope they will be out this year to support the class again. They were both seen sniffing around at the NEC and I don't mean glue. Tim's great season last year will take some beating and I know Mark is hoping to get his blade rebuilt to join the fun. Breaking news suggests that Matt Turner has a more powerful R1 available and is currently looking at the size of slicks to use so that looks like he is moving to class G.
It is believed that there may be more people double driving next year following the successful example set by Derek Hodder and Gary Bunn in the supercharged Honda built by Del attacking the class H times. I believe that SBD will be out in their factory car being driven by Matt Hillam and Carol Torkington as Craig Sampson may be double driving the single seater and we also see Kurt Ramsden leaving to drive a Radical SR3 as he is selling the Flymo. Will Richard Kerr join Luke Algar in the purple rocket in class D? Will Phil Newall (Barney) reappear in his own or someone else's BEC? Maybe he has been chatting up Richard James in the class E car so they will meet up Andy Hargreaves with Yamaha R1 power. I guess that class F will see Barry Slingsby blasting around at a ridiculous speed again with Pete Goulding and Paul Morcom but who will join them? No news yet from Paul Aspden but hopefully he will be out again with a rebuilt engine. For those running CECs the choice of tyre is still vigorously debated in the paddock. Not long ago drivers using 1B tyres were using the softest Toyo 888 but more recently Kuhmo V70 and Avon ZZR are the choice rubber. Both are a little limited on widths for 13" rims, which most people now use but they certainly give fantastic grip. It is hoped that there will be a few fresh faces coming into A & B to bring new blood into the series and they will be most welcome and I hope they have a great season. A message from Kevin Jones suggests that the turbo 'busa is back together and he will be out but not sure what his brother Paul is doing yet.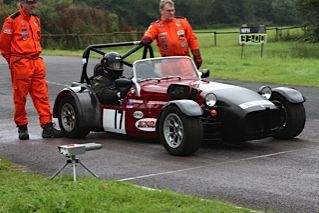 Steve Everall, on start line at Curborough 2012
The event
The following is a part of the sequence that most drivers go through initially before the day and then on the day itself.
Preparation - bolt check, check nothing loose or leaking oil on engine, charge battery, check tyre pressures, fuel up, clean slicks, attach competition numbers, put car in trailer, load all tools, spare battery and as many spare parts as you can fit in, clean helmet and overalls, gloves, pack competition licence, speed series club card and other paperwork and don't forget the kitchen sink!
Then panic that you have forgotten something so check again.
On the day – Find paddock space, unload car, sign on, get car through scrutineering, attend drivers briefing, walk course to check where the black bits are and decide in theory where to brake and where the apexes are but its rare you will get that right, check tyre pressures and wheel nuts, warm car up, pass noise test. Although most people arrive very early at around 0700hrs they may have already driven for 2 or 3 hours to get there and the time flies by and you are soon ready for the first run. So, up to the start line and with cold tyres and not too many revs away you go. Try to breathe normally and not panic as you brake for the first corner with cold tyres and brakes and not much grip. You cant afford to make any mistakes as you will ruin your time so the combination of the right revs and gear, good lines, very late braking, bravery and a bit of luck throw the car sideways at the finish line. Back to the paddock and check how others went, discuss how little grip there was and then check your time before deciding which excuse to use if you were not the quickest. Some experienced drivers get their excuses in first before the event starts to avoid embarrassment later! eg. car not running well, too much liquid refreshment the night before, tyres worn out, man flu.....etc.
Finally after practice and timed runs the clock is king and your best time counts and quick times means good points and you are already chomping at the bit for the next event. Its totally addictive.
So come and watch or better still, enter the series , even if you can only do a few events . You will not regret it and you will find a new group of friends (it's almost like an extended family)
For more information, suggested future topics or gossip please click here to contact me
1