More Bodywork Needed..... Two Trophies Though (Now with Video)
So this was my first race weekend with the Caterham. I stayed locally at a hotel with my friend and with the lesson learnt from Donny a few years back I packed the earplugs in anticipation of the ridiculous snoring. Luckily I got a good night's sleep, but woke to very dark sky's when I opened the curtains. It just started to rain as I left for the circuit and it was not to stop until mid-morning. This was not forecast and I had never driven the car in the wet before.
Quali was very damp and oil was dropped over the entire length of the circuit about half way through the session so it was driving on 'tippy toes' for most of it. The car felt great on the soft Khumos and I qualified 7th overall in a field of 20, 1st in class. Or so I though. Turns out the entry list was wrong and I found out a little later that the current Champion had decided to put some sticky tyres on and enter my Class for the year. Great. I was just behind him on the grid with a powerful (240 horses powerful) Westie between us (who was clearly going to drive away from us both on the rolling start). The grid was a little muddled-up with the rain mixing up the usual order. Game on.
In the first race it was damp when I left the paddock. I wanted to maintain the current set-up as it was a 'known quantity' from Quali, but it was a mistake. The sun came out immediately and with a long wait in the holding area and a breeze the track was dry by the time we went to race. Turns out my class competitor was also on wets. What ensued was one of the most epic battles I have ever had. We only changed places 3 times but were side-by-side for nearly 3 corners at one point and side-by-side for many others. He had the legs on my car but I think I was slightly better on the brakes – I went round the outside of him at the hairpin and I'm still not sure how! We both were racing hard, but giving each other just enough room. It was very close racing and great fun. However, it nearly ended in tears when one of the other BS class cars (on full slicks) joined in. I saw him approaching very fast at the new hairpin and thought 'no way will he stop that'. He sped past me and my competitor, locked up the front and just missed us both (he later apologised as it was a little wreckless) he ultimately gained two places as we both tried to miss him, but we both got past him within a lap. Ultimately, I lost out on the penultimate lap as the leading cars came through and I got held up as I was block passed. I finished second by two tenths but gained fastest (class) lap as consolation.
To add to the excitement, my  gear knob came loose after about the first lap. I spent the race trying to tighten it up on the straights. It was quite distracting as I had enough to think about!!! Reminded me of this brilliant video (https://www.youtube.com/watch?v=k38LyqmUeM0). When I came into the holding area, I unscrewed it and handed it to my buddy. For comic effect.
Race two was dry and sunny. With grid positions determined by the finishing place from race 1 I was along-side my class competitor. It didn't start well. I got tagged into the first corner by a overoptimistic Saxo, breaking my rear arch (see pic). I carried on nonetheless, but lost loads of time and in my fluster, missed 3rd on the corner exit. I had a bit of clear track so I looked to grit my teeth and get some quick laps in. Then it was red flagged for a car that was stuck, facing the wrong way on the at the other hairpin. Good for me as we would re-start the race.
On the re-start, the lights held for a long time. One car accelerated before the lights went out and it spread like the plague. Yes. I was guilty too, but I got away with it along with half the grid. It was another race long battle. We were both on semi-slicks this time so the speeds were greater and we drove away from the others in our class. We both maintained position until a car in front had a tank slapper and my competitor had to take evasive action. He left the track, lost his splitter and returned to track near to me (I was a little worried that he was going to 't-bone' me at one point) but I got the position. Fortunate really. We raced for another 10 minutes, or so (side in many corners) and I was caught napping overtaking a slower car at the hairpin. He passed me with about 3 laps to go. On the last lap I threw everything at it. A last ditch move into Honda (the last corner and a fast right) nearly worked, but I just could not make it stick as he held it round the outside to finish just ahead of me. Close, but no cigar.
First looser in both races, but it was intense fun. It reminded me why I am penniless and spent far too many cold nights in the garage. Still, I got two tacky trophies for my efforts.
It's going to be an interesting season.
Mike
Videos:
Mid-Race Battle (Race 1):
Manic end of race 1 (I like this video it was crazy out there!):
New arch needed....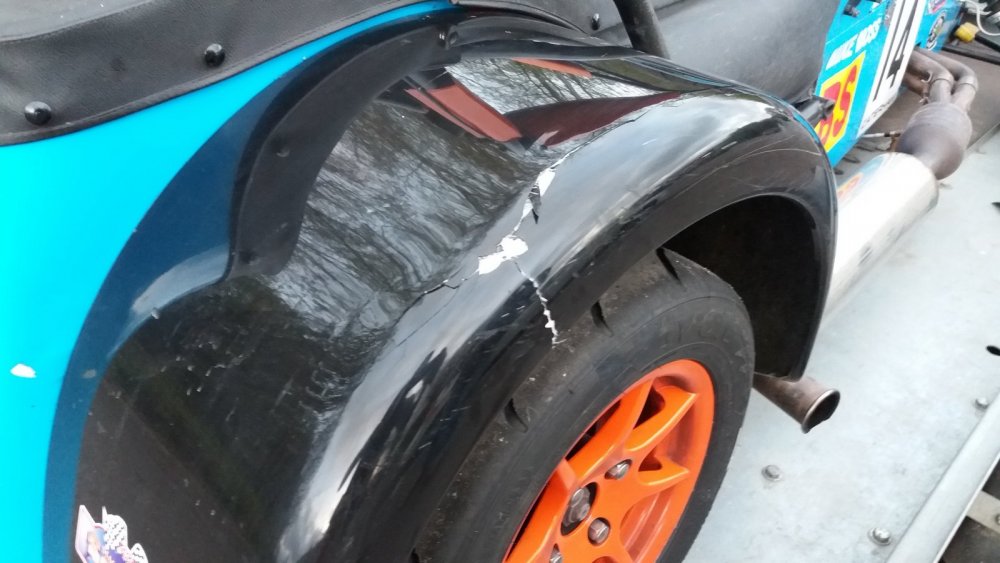 Silverware: