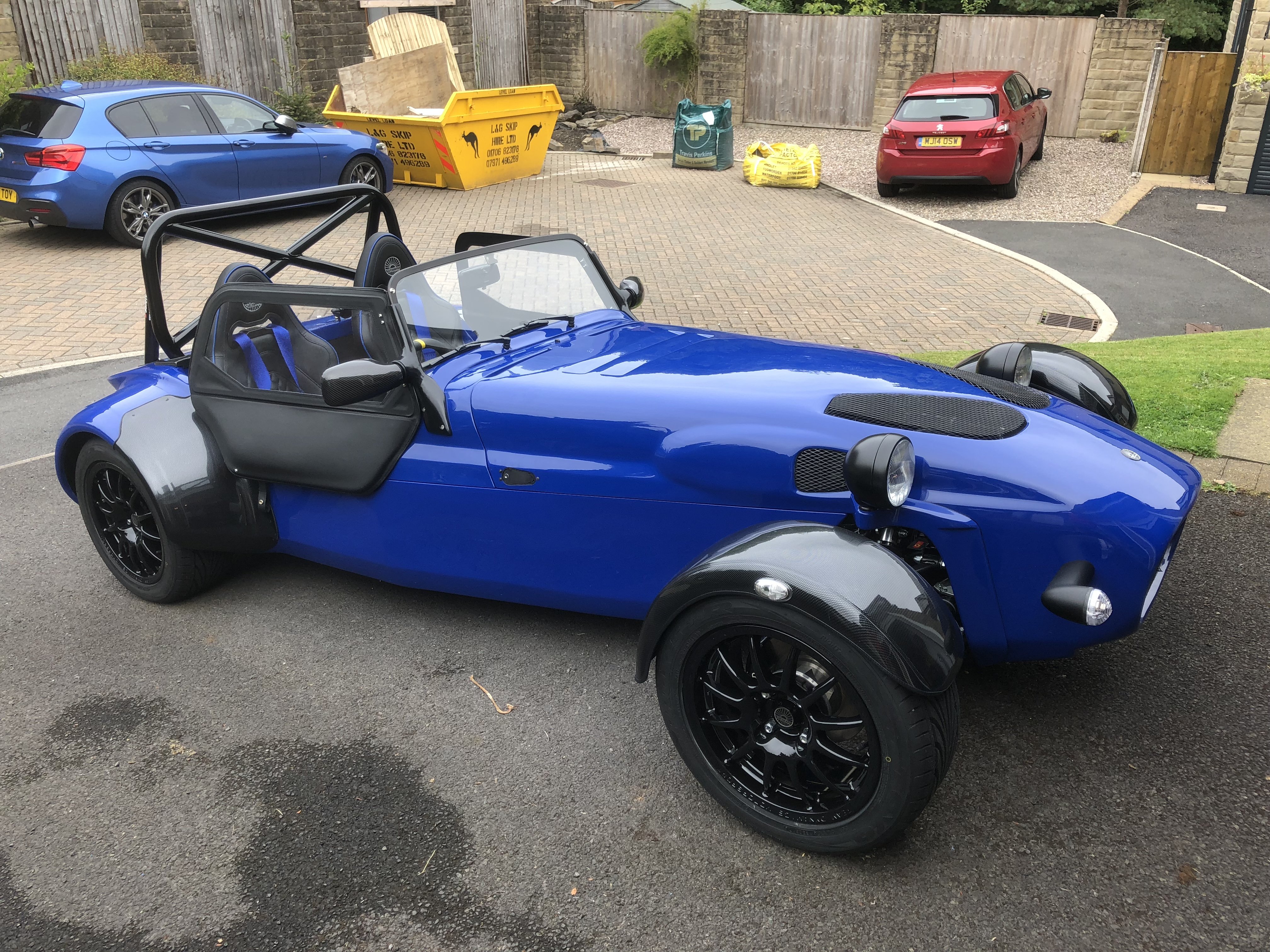 Content count

78

Joined

Last visited

Days Won

1
Community Reputation
26
In Build
Recent Profile Visitors
The recent visitors block is disabled and is not being shown to other users.
You definitely need originals, learned that the hard way. I didn't need the 627/1. Don't know if that is because it wasn't needed or they just happened to not ask in my case. Just had the registration through today 5 weeks after starting this process.

It's wasn't the cheap option, put it like that. The columns with the boss fitted are around 220. The wheel was around 160, you can probably get something cheaper but it's a very nice wheel. Spacing wise it's certainly no closer to the driver, might actually be a bit too close to the dash. Will see how it goes. The company who supplied the column also do a 20mm spacer if needed.

I've just fitted one. They can supply a replacement alegro upper column which just slots in. Was a quick job and then fitted a little OMP wheel. Very pleased with it.

Thanks. Look forward to getting mine mounted.

Thanks. It's an OMP Trecento wheel. Lovely thing to hold. One thing I can't tell until I get the old column out is whether the wheel will protrude any further from the dash. Did you find it similar or did you need to add a spacer at all?

Ok thanks. When I fitted the upper column the inner shaft would move within the outer but not pull out of it. I had assumed therefore that there was more to it than that and something secured it within the outer. Will give it a try. Thanks.

That's a nice looking car and a lovely story to continue with it. Best of luck with it all.

Hi. Picked up a new inner steering column with a go race quick release boss attached. It's a really nice looking bit of kit which self centres when you put it back on. It's a direct replacement for the existing Alegro upper column. Can anyone tell me how I remove and refit the inner column from the outer? When I fitted it originally the upper column came as a complete assembly. Also got a nice leather OMP wheel to fit on the boss. Stuck with a 30cm wheel and feels right for me. Thanks as ever.

Thanks. Just called them and Simon picked up, he said it strictly requires the original but most will accept the scan. You get the odd jobsworth who insists on the original, it happens to them sometimes. So on the one hand I've been unlucky. On the other hand if there was a risk of it not being accepted then for a days delay to post it to me I don't understand why they wouldn't habitually issue the original. My delay will now be weeks as a result. Oh well worse things happen and I'll just have to buy sme more shiny bits and bolt them on to make me feel better! Does the spending ever end ....

Thanks, but as they've sent the whole pack back to me and I will need to send it all back to them again it makes no sense to send the scanned one. I'm going to insist on the original this time.

Looking for sympathy! No one at work seems to get why I am so bothered about this. Car passed its IVA 3 weeks ago and I had the registration forms all ready to go. Westfield emailed me the certificate of newness (you can see where this is going ...) with instructions to print and include it and assurance that was acceptable. DVLA have just returned the application, rejecting it as they say it must be the original signed letter which Westfield have never sent me. I now need to get onto Westfield this morning to get that and resubmit. It was so close to being on the road I'm gutted. The bigger issue for me is that whilst I wasn't bothered about waiting for a 68 plate reg it will now be so close to 1 September it makes no sense to do otherwise. I am then away for the first two weeks of September so it will be mid September before the car is on the road. Let's hope the summer holds. For anyone else getting ready to submit registration don't listen to Westfield, insist they send the hard copy original.

I just wanted to say this is awesome work! Just read the thread from start to finish, top work, please keep it coming I'm looking forward to updates.

Homer replied to AlexF's topic in IVA Info

As others have said that looks a really neat build. Definitely edge your cycle wings. I did mine and asked the examiner whether I had needed to and he said yes. Others have really covered the rest of what I would add other than take some nice biscuits. I'm not kidding, mine was going well and they stopped for a brew. My wife and I got offered a cuppa and chipped up with I have some biscuits in the car. There were lots of jokes about attempted bribery but they chuffed the whole packet. Always good to show a litttle appreciation for someone who's just doing their job and at the end of the day are trying to help you pass as long as they like the overall look of the car. The boss came out during my my test with three trainees and was watching the test and showing them things on the car. He was very honest about this point and said a lot is down to their discretion and gut feel over the quality of the build. If they like it they will do their best to get you through. Yours looks cracking so best of luck.

Homer replied to Valentinik's topic in IVA Info

Yes definitely edge these. My car passed IVA 2 weeks ago and I had edged them, but I asked the examiner whether it was something I had needed to do. He said it was and would have been a fail without it.

Thanks. I got a response within a week of sending the forms in and then called to make the booking. I got a slot in about 4 weeks but that might not be representative as oddly enough they just had Friday the 13th free! I drilled some holes for the tea tray as couldn't see another way to mount it. Kept them close to centre and will be covered by plate. Didn't bother with any front mount. He rear is all about having a sufficient sized surface area for display of a plate.