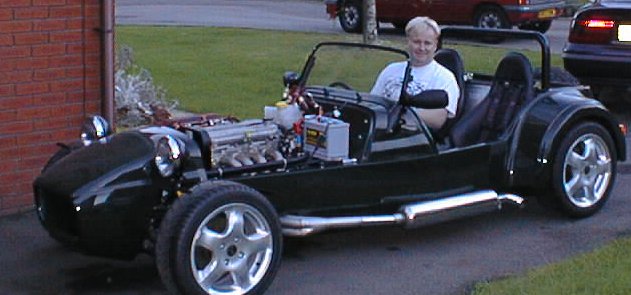 Content count

47

Joined

Last visited
Community Reputation
14
In Build
Profile Information
Car Details

1997 SeiW 2L Zetec on 45s - Re-building.

My Location
Recent Profile Visitors
The recent visitors block is disabled and is not being shown to other users.
Well, I chose Autoaid in the end due to recommendations here. My son needed them today; they came quite quickly for a weekend and were fantastic, bringing the car home and pushing it up the drive for us (broken release bearing suspected). Thanks to all who replied.

Hi Folks, I'm looking for an alternative for my AA cover for the tin tops, for me, my wife and one of our sons. The AA price is going up crazily for no apparent reason. We have 'Roadside' and 'Relay'. Any ideas? I learnt about A-Plan insurance for the Westie on the forum, so I thought someone might know about breakdown cover too.

Many thanks Gentlemen. It's so helpful to receive personal recommendations for kit which is new to me.

Hi Folks, I have an idea for a welder for Xmas. Would like to hear recommendations for helmet. Flip-up or auto-darkening,... brand? Steve.

Might be interested if you can tell me the offset for sure (it's stamped on the rims) and it's the same on all wheels. Where in the country are you?

Yup. Anker and RAVpower. Both good and from Amazon.

Hi Folks. my 17 year old is due to begin scaring us all by learning to drive. Does anyone know the best way to set about getting insurance for him? We'll be buying a small engined car. Having him bust my full NCB isn't attractive, but what's the cost of his own insurance? Anyone been thro' this recently and can advise? Cheers, Steve.

Wobblyprop replied to David_Thame's topic in Tech Talk

The springs set the height, not the shocks... unless you've manged to pull a shock out to its limit (unlikely).

The step drill was the winner from my point of view - Very neat hole, minimal tidy up needed. Slow the drill down as you go up in size. Was on about 500rpm at 24mm with cutting fluid and all was well. For smaller holes in softer stuff you could maybe do up to 5mm (hence 10 if you flip it), but the max thickness for steel is quoted at 3mm and I think that sounds right. Thanks for all suggestions.

Well I've done that with 1mm aluminium , but 3mm steel? Seems much harder stuff.

What's the simplest way to get a 2cm dia hole in a piece of 3mm steel? Access no issue. Hand tools.

If you're already an Amazon Prime member as I was, then the no-brainer is the Firestick (£40 as you say) or the more powerful Fire TV (£80).

Wobblyprop replied to BillyPee's topic in Tech Talk

195/50/15 ET35 is the biggest I can get on my 97 fixed arch car. Looks cool though !

I bought this for my son who's an amateur photographer. He loves it. Plus if he hasn't broken it yet, then it's a good 'un.

Wobblyprop replied to Adrian (Aidey200) - South Wales AO's topic in Tech Talk

Yes same here. Escort Mk3/4 _fronts_ on my 98 SEiW _rears_.