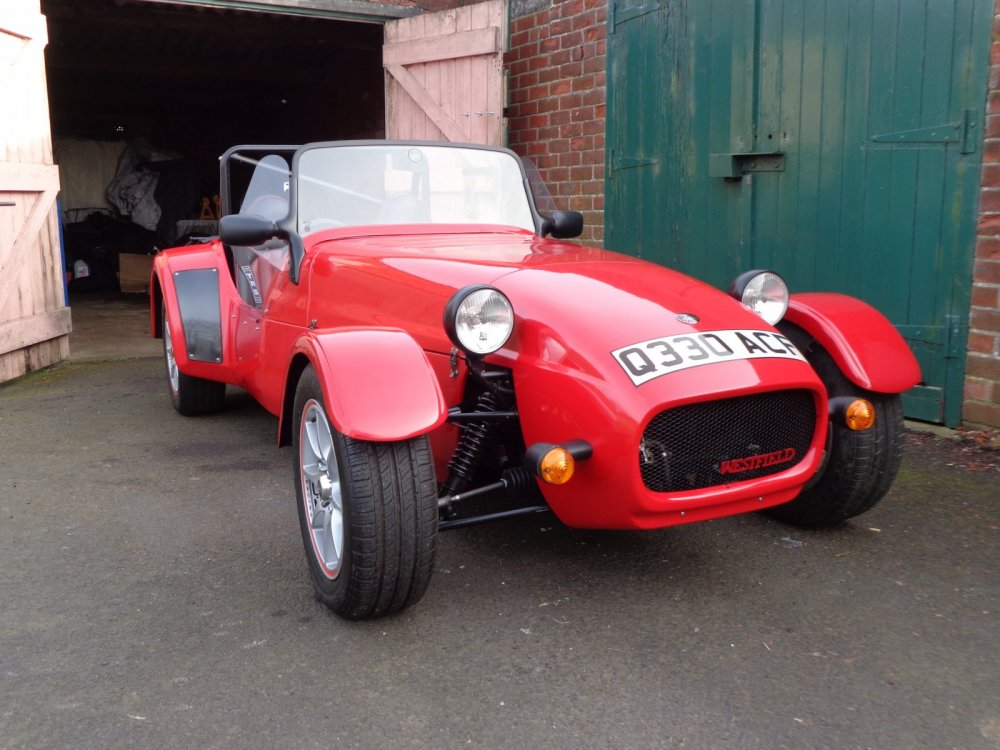 Content count

385

Joined

Last visited
Community Reputation
63
Good
About Olliebeak
Rank

Olliebeak


Birthday

02/03/1948
Profile Information
Car Details

Westfield SEW,Red,1600 X/Flow,twin Dellortos, 4speed live axle.

My Location
Olliebeak replied to Thrustyjust's topic in Tech Talk

Never thought of that, no it is my combined number plate and splitter, need all the downforce I can get when the mighty XFlow is at full power!!

Olliebeak replied to Thrustyjust's topic in Tech Talk

Finished my winter tinkering for now, fitted new exhaust manifold with welded collector instead of the clamp version previous which I could never get to seal properly, crash pad, secured seats, interior side panels, carpet, ammeter, 4" dominator style headlamps and bike front indicators, 13" Superlite wheels with new tyres. Some pics below, havent been on the road yet but I think the wheels will make a huge difference to the handling.

I will take these if Paul does'nt. thanks

Thanks again for all the help and info , I do like the Falkens they are also a good price. My Superlites are only 5.5J I could not find any 6J. I will also have a chat with my local independent tyre dealer who I have used in the past, he is very helpful and knowledgeable As the wheels are 5.5J will this make a difference to the tyre width i.e 185/60 or possibly 175/70

Thanks for all the comments and recommendations, my car is just a SEW with a 1600 XFlow and as I will be seventy next month you can imagine that I dont do high speed near the limit driving. I just want a nice agile car with good acceleration and grip around bends etc. I have got 15 inch wheels on at the moment with 195 tyres. I have got the weight of my car down to 510kg and hope the Superlites will reduce this further. My garage is becoming like a tyre depot as I now have four sets of wheels and tyres and can select from 13",14" or 15". I have narrowed the selection down to : Falken ZE914 Yoko A539 Toyo Proxes CF2 Continental Contact 3 Goodyear Efficient Grip The favourite are the Yoko's Not looked at Nankang yet they have not come up on localTyre dealers sites Any comments appreciated

Apologies if this subject has been aired countless times before but I am becoming confused over a choice of tyres. I have recently acquired some 13 inch Superlite Performance wheels (similar to Minilites) and need to buy four tyres. I have looked at numerous tyre reviews and it seems to come down to personal preference so I am looking for the opinions of those with similar cars. I am looking at a mid range and the favourite at the moment is Goodyear Efficient Grip Compact 175/70/13, or Avon ZT5, Continental Contact 3. In 185/60/13 Iam looking at Falken ZE914 or Yokoham A539? What are the opinions of 1856013 against 1757013, my car is only for road use and I dont zip around at high speeds so dry grip and feel through the wheel are important. Opinions welcome on both size and tyre choice Thanks

Olliebeak replied to Martin Rice (Sparkymart) - Cornwall AO's topic in Stuff & Nonsense

I sure that I saw something about using 'grid kids' in F1 instead of the girls. Anyone see the potential problem with this!!!

My car has a Megajolt Lite and runs fine but I still have the original distributor with side entry cap, you can have it foc plus post just let me know.

They are the same as mine from Soft Bits for Sevens, made from vinyl type material.

Olliebeak replied to Olliebeak's topic in Tech Talk

Thanks for all the info,very useful.

I am considering some 13" JBW Minilite style wheels 6J13, they do an offset of 16 and 23, I was going for 23 ,is this ok? My car is a SEW with kit bodywork and I am currently running TSW style 15 " wheels with ET35 with no probs.

Olliebeak replied to carbon-nv's topic in Tech Talk

Some not very good pics, I hope they may be of use, let me know if you need anymore.

I worked for the local authority for many years and it was commonplace for contractors to put in a low tender bid to win the contract and them make up their shortfall on claims against the contract, e.g poor weather, difficult ground conditions etc etc. I cannot understand why in the 21st century we have motorists stuck on motorways for up to eight hours, re the latest M74 fiasco. Motorways and major trunk roads were the responsibility of the Highways Agency not the local authority. You could link the Highways Agency with the Environment Agency and put all the non producers together.